Manuel Antonio National Park Tour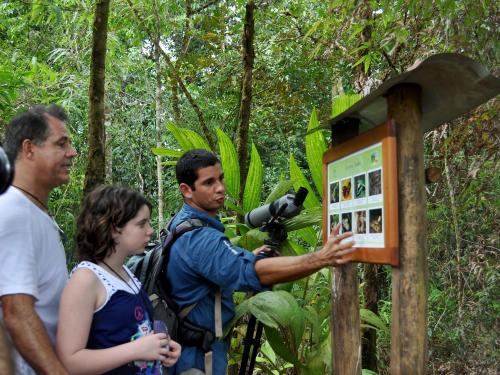 It will be just like experiencing Costa Rica for the first time and therefore absolutely unforgettable. Take a leisure stroll or an intense hike (it's your choice, since it's your tour) with a highly trained, well-educated Costa Rican naturalist guide through our exotic, bio-diverse tropical rain forest which has been preserved for over 40 years.
The pace of this adventure is determined by your group's abilities and interests, and the amount of wildlife you want to stop for and observe (or learn about) – all in their natural and breathtaking habitat. Watch sloths and numerous species of monkeys travel through the tree canopy, hunt for nocturnal silky anteaters and several types of non-poisonous snakes resting in the tropical rain forest, and listen to the songs of the various birds as they glide above your group.
Includes: Transportation, park entrance fee, bilingual guide and Snacks.
Pickup Time: Approximately 5 hours / 6:00 a.m.
Minimun 2 adults are required to confirm the tour.
Price: 2 adults $105 p/person
3 up to 7 adults $89 p/p
children under 12 $62 each.
Santa Juana Rural Mountain Adventure Tour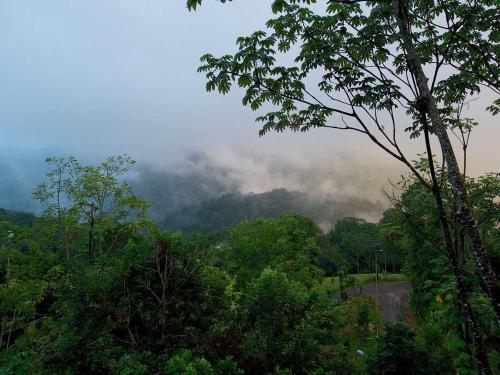 There is no experience quite like the combination of the magic of nature and Costa Rica is authentic rural heritage on this, our highest-rated tour. Greentique Certified Guides take you on an amazing tour of nature, conservation, and rural culture. You?ll hike along lush jungle-shrouded slopes where two rivers are born, then swim in one of the regions most pristine natural pool beneath a mesmerizing waterfall, spot fascinating wildlife, fish for tilapia, and visit an authentic sugar mill powered by massive oxen. Then return to the lodge of a traditional Campesino-style lunch while enjoying the panoramic vista of Manuel Antonio National Park and the Pacific Ocean that fills the horizon. You?ll also become a vital participant in the Carbon Offset/Native Tree Reforestation Program, adopting your own tree as you help conserve this priceless watershed within Greentique?s Cloudmaker Nature Reserve.
Includes: Greentique Certified Guide; ground transportation from Manuel Antonio/Quepos, snacks and lunch
Departure Time/Place: 6:50 a.m.
Duration: Half Day
Activity level: Easy to Moderate
Recommend: T-shirt (2), shorts, bathing suit, hat, sunglasses, closed toe trail shoes, sandals with straps or water shoes, camera, binoculars
Price: 2 or 3 persons $125 p/p and $99 from 4 or more
(min. 2 adults) Children under 12 are $79 each.
Santa Juana Rural Mountain Adventure And Zipline Combination Tour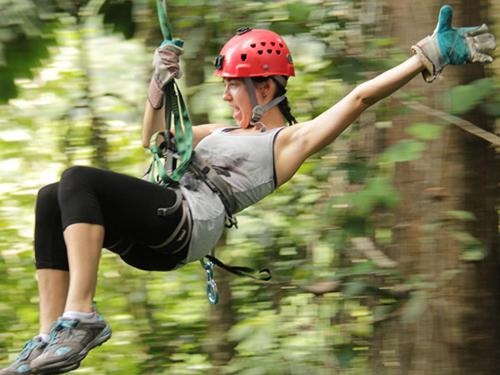 Add a Canopy Zipline Tour to the Santa Juana Adventure Tour for the best adventure combo in the Central Pacific Region.
Enjoy this exclusive Greentique VIP zip lining experience to start your Santa Juana Mountain Adventure. Our goal is to provide each and everyone of our guests an amazing experience out in the rainforest. Our tour offers something for everyone; from our thrilling Superman or a tarzan swing, to our butterfly garden, to our walking trails, to our zip lines where everyone gets to sail like a monkey through the canopy of the rainforest.
Includes: full range of activities on the Santa Juana Rural Mountain Adventure Tour (see above)
Price: $155 per person
Price: $80 per person (Zip Line Only)
Los Santos Coffee Tour
Discover first hand the secrets of what makes Costa Rican coffee so famous in Los Santos area amongst the world most coveted coffee. You will travel by 4×4 over the mountain ridge above Santa Juana to the coffee plantations of Los Santos, where growers produce what is considered the finest mountain grown coffee in all of Costa Rica. It includes a fully guided tour of a local coffee cooperative, where you?ll see the entire process, from plant to brewed coffee, demonstrated by local experts. You?ll also enjoy a typical local lunch, included in your tour.
Includes: Local Guide, 4×4 transportation, lunch, fruit juice, bottled water
Departure Time/Place: 7:00 a.m. from Santa Juana Lodge
Duration: Day
Ages: All ages
Activity level: Easy
Recommend: Walking shoes/sneakers, short or lightweight long pants, extra shirt, waterproof jacket during green season, camera
Price: $85 per person (Minimum 4 person )
Cloudmaker/Santa Juana Birding Tour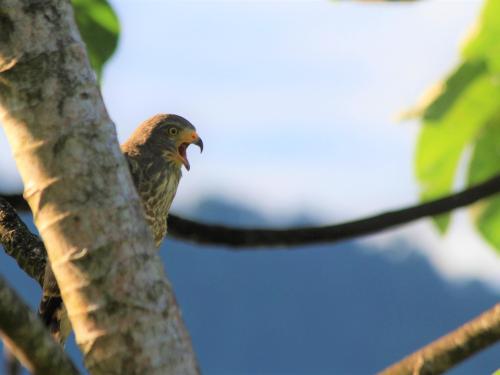 Led by a Greentique Certified Guide Birding Specialist, you will see why Cloudmaker is a must do Costa Rica birding destination for birders from around the world. Cloudmaker and the surrounding Santa Juana Pueblo area offer a rich blend of species endemic to the Central and Southern Pacific regions of Costa Rica and species native to the foothills of the Talamanca Mountain Range. Among its 150 bird species is the Red-capped Manakin, known locally as the Michael Jackson Bird for its amazing moonwalking mating dance. There are also white hawks, crested and yellow-headed caracara, gray-necked wood rails, southern lapwings, purple gallinules, black mandible toucans, fiery-billed aracaris, pale-billed woodpeckers, royal flycatchers, swallow-tailed kites, wood storks, king vultures, and crested guans. During peak migration, the reserve?s count increases by about 25% to 250+ species, as does the auditory resonance of their voices. More than 80% of the birds can be found year round and as many reproduce twice a year, it?s possible to hear a variety of melodic mating bird songs. At the end of the trail, slip into the cool waters a beautiful natural swimming pool, fed by a spectacular waterfall before heading back up to the Pueblo.
Includes: Greentique Certified Guide Birding Specialist; ground transportation from Manuel Antonio/Quepos, snacks and lunch
Departure Time/Place: By reservation, 6:30 a.m., from Santa Juana Lodge
Duration: Half Day
Ages: 6+
Activity level: Moderate
Recommend: Walking shoes/sneakers/trail shoes, shorts or lightweight long pants, extra shirt, bathing suit, lightweight waterproof jacket, camera with long lens, binoculars
Price: $110 p/p
More tours and shuttle services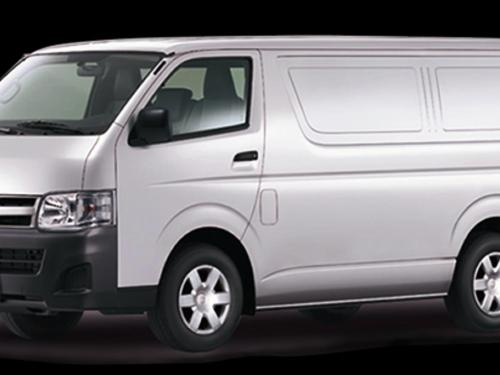 Horseback Riding $70 p/p
River Rafting $85 p/p (Transportation is not included)
Shuttle service from the International Airport $240
International Airport round-trip transportation $480